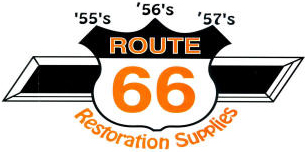 Supplier of 1955,56,57 Classic Chevy Restoration Supplies
Miscellaneous Chevrolet Items

Bowtie Lights : Bowtie Engine Dress up Kits
Oil Mats : Taillight Dots : Bowtie Decals
---
Bowtie Magnets
They measures 2 1/2" x 1"
#17-04C Red - $2.00
#17-04D Blue - $2.00
| | | |
| --- | --- | --- |
| #17-06 | 5-6-7 Taillight Dots (Red) | $10.00 |
| #17-05 | 5-6-7 Taillight Dots (Blue) | $10.00 |
Bowtie Engine Dress Up Kits
| | | |
| --- | --- | --- |
| | | |
| #17-09A | Bowtie Dress Up Kit (small block engine) | $65.50 |
| #17-09B | Bowtie Dress Up Kit (rear cover ) | $10.50 |
| #17-09C | Bowtie Dress Up Kit (valve cover) | $9.50 |
| #17-09D | Bowtie Dress Up Kit (hood hinge set) | $10.00 |
| | | |
| --- | --- | --- |
| #17-07 | Small Bowtie Decal | $2.50 |
| #17-08 | Large Bowtie Decal | $5.00 |
They can be used for shop, front porch, as door mats or even the trunk of your classic Chevy!!
They have a bowtie design in the middle of the mat.
They measure 2' 5" X 3' 4"
With Chevrolet Name
W/O Chevrolet Name
#17-10
Black
#17-10D
Medium Blue
#17-10E
Gray


Only $30.00
Each!!