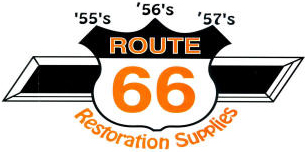 Supplier of 1955,56,57 Classic Chevy Restoration Supplies
Used Parts
Our used parts listing is much to large for a complete detailed listing.
These are some of the items we usually have.
If you have a used parts need, please call. (918) 968-2366
The availability of used parts varies from time to time.
Moldings
Bumpers
Doors
hubcaps
Various knobs, nuts, and bezels
Some NOS items
Used Parts Ready For Immediate Order
Part
Description
Price
Pic
Add To Cart
Shift Collar
1957 Shift Collar (Used, Bead Blasted, No Cracks)
$29.95
Instrument Cluster
1957 Instrument Cluster (Used, Bead Blasted, No Cracks)
$49.95
Turn Signal Housing
5-6-7 Turn Signal Housing (Housing Only, Used, Bead Blasted, No Cracks)
$21.00
Gen & Turn Signal Retainer
57 Generator & Turn Signal Retainer (Used, Bead Blasted)
$7.95
Oil & Turn Signal Retainer
57 Oil & Turn Signal Retainer (Used, Bead Blasted)
$7.95
Dash Plater under the speedometer
57 Dash Plate under the speedometer(Used, Bead Blasted, No Cracks)
"Airplane" looking part that fits under the speedometer & covers up the dash & steering column
$25.00
Speaker Grille
57 Speaker Grille (Grille Only, Hardware NOT included, Used)
$21.00
Home Catalog Contact Us Order/Shipping
Rt. 66 Restoration Supplies
Supplier of 1955,56,57 Classic Chevy Restoration Supplies