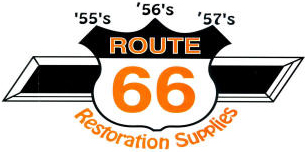 Supplier of 1955,56,57 Classic Chevy Restoration Supplies
Rt 66 Restoration Supplies
201 West Main
Stroud, OK 74079
Phone (918)968-2366 Fax (918)968-1955
Home
Print order form to fax or mail.
To email, copy and paste form below to email message body then fill in information.
Place email order
Shipping fee is based on UPS ship fees and will be figured when order is packaged.
Shipping Information:

Name:
Street Address:
City, State, Zip:
Phone #
UPS Options:
Card Information
Card #
Expiration Date:
Security Code:
| | | | | |
| --- | --- | --- | --- | --- |
| Quantity | Part # | Description | Unit Price | Total |
| | | | | |
| | | | | |
| | | | | |
| | | | | |
| | | | | |
| | | | | |
| | | | | |
| | | | | |
| | | | | |
| | | | | |
| | | | | |
| | | | | |
| | | | | |
| | | | | |
| | | | | |
| | | | | |
| | | | | |
| | | | | |